2006
Currently working on: registered WGAE script "THE PARAMETER"

March:
Filmmaker Andy Phillips and his short film "Slide" listed in the IMDB at http://imdb.com/name/nm2066872/ for Filmmaker Andy Phillips listing and at http://imdb.com/title/tt0484069 for short film Slide listing
2005
November:
Member of IFP New York
Official Selection "Big Apple Film Festival"

September:
"Slide" official selection "Los Angeles International Short Film Festival"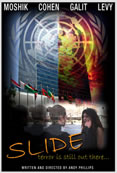 2004
May:
A few days before the Tribeca Film Festival started, I filled out an application in their website to work as a volunteer. The festival ran from May 1st through May 9th.
From that application, they assigned me to work as a box office volunteer at the UA (United Artists) cinemas. I was given an schedule of hours to work only for the three days of May 1st, 2nd and 3rd.
I helped people know where they were going and help them to see the movies. I got a special Tribeca badge for this. I used a walkie talkie. I met and talked with movie stars while I was doing it. I helped them too. I helped some filmmakers and directors who had films in the competition. It was a great experience!!!